Client
Solasta Beauty and Spa
Scope
Branding
UI/UX design
Website Development
Challenge & Solution
Solasta identity goes with its own characteristic. It is easy to recognize, easy to be remembered in the mind of its customers; stands out and be unique from competitors; though still retains the graceful beauty without showing off and being flashy.
"Find your beauty"
The woman's beauty is always present in very separate ways, depending on their lifestyle, hobbies or dreams. Having many responsibilities to the family can unintentionally causes that beauty gradually lost interest and somehow be forgotten. With the beauty that a woman has already had, even if it was forgotten for a while but she knows how to evoke, it will return to her own beauty.
Solasta Beauty and Spa is a trustworthy and dedicated place enough to help women find and arouse the beauty that inherently belongs to them.
3 main characters of Solasta: charming, trendy, powerful.
Logotype (1)
Inspired by the swan image with the head looking straight, slightly up showing a bit of beauty; graceful with a crown and strong wingspan.
Logotype (2)
Evokes the charm from selected fonts combined with hand-drawn slogans.
Typography.
Color usage & placement.
Graphic pattern
Graphic pattern slogan is hand-written; used as decorative motifs. The stylization makes the company's message more impressive to its customers.
UI/UX design
Interface is consistent with the brand identity system, also expressing the charm & gracefulness through UI design style, pattern and preloading animation.
Consulting and optimizing the sitemap, navigating users to achieve conversion is making an appointment directly on the website.
A whole new UI design style makes it easier to look for services.
Category & product page layout design.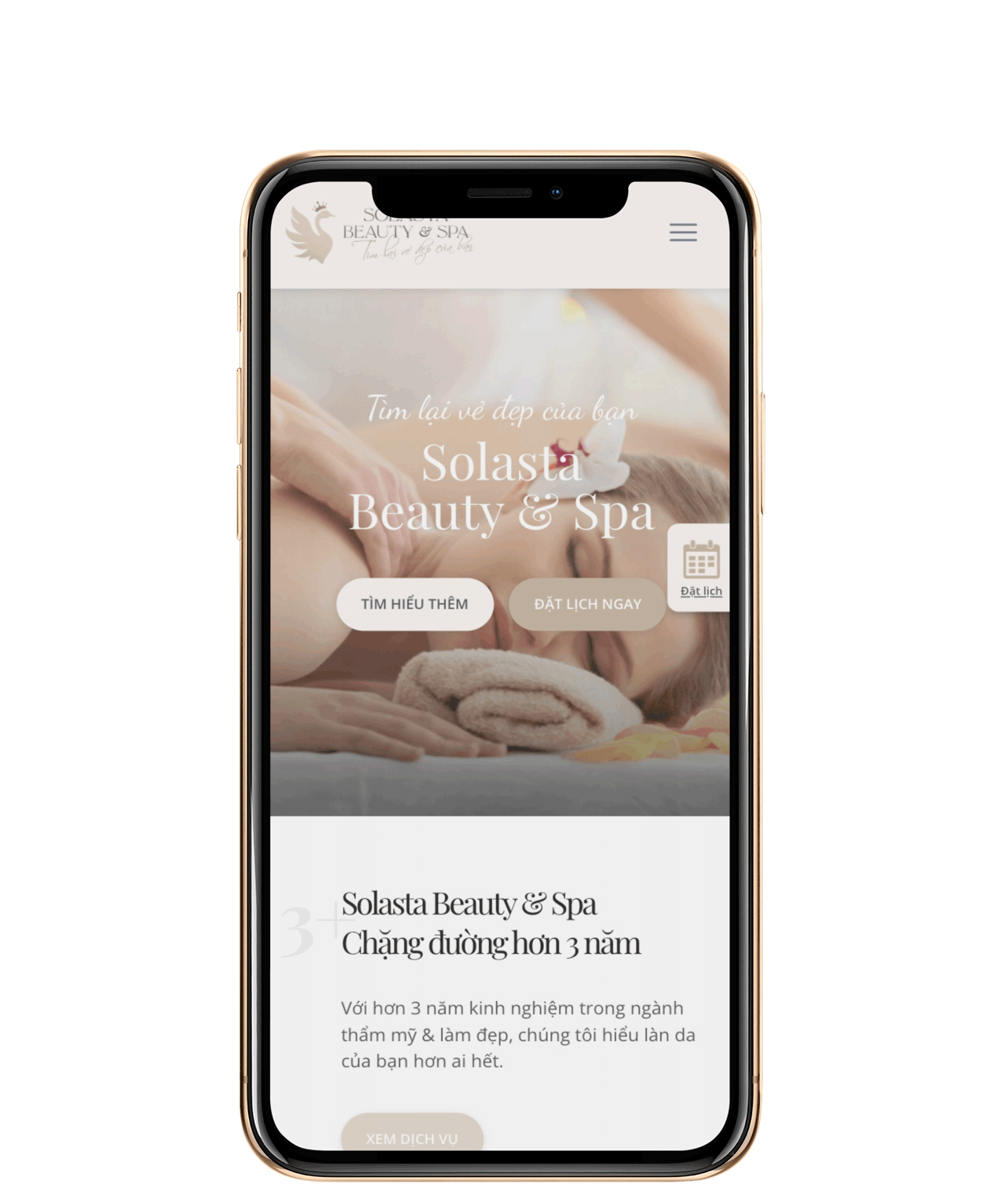 Responsive design.
Intergrated
with
Salon Hero is a third-party management system for multi-service booking & sales care, including spa service. Solasta Spa has been using it for arranging appointments, managing sustomer relationship.
Therefore, Salon Hero continues its strength by being intergrated its booking system in the website, in order to directly create conversion. From there, Solasta can manage appointments better among website and walk-in, all in one place.